So there we are, minding our own business, when an angry demon springs to life in the basement. He is on a rampage, pounding against the walls with all his might, THUMP THUMP THUMP THUMP BANG BANG BANG. We race downstairs. Turns out it is only the Sears Kenmore front-loading washing machine's internals beating themselves to death during the final spin.
After ruling out an unbalanced load (even fully empty, BOOM BOOM BOOM), I lookup the symptoms online. After a few thousand pages of angry ex-customers' rants, without even lifting a wrench, there is no doubt what the failure is.
All available evidence confirms that this machine is DESIGNED TO FAIL EVERY FIVE YEARS*. The fuse is an innocent-looking metal bracket on the back of the spinning clothes basket known as a spider; its purpose is to support the basket on the drive shaft leading back to the motor. This spider, an uncoated pot-metal part made of a brittle Al+Fe alloy, is fully exposed to and tumbles its way through all the detergent, bleach, dirty laundry water, etc. After a few short years of this, it corrodes through and shatters during the spin cycle! Of course, you can't buy just this part; you have to plunk down for the entire basket/etc. assembly at $200 a pop**. Guess who now has a nice spare stainless steel basket laying around to turn compost in, heh.
My brief description does not do this problem justice, but there is an excellent video from a former Kenmore owner detailing this spider issue and several other, likely intentional, design flaws.
So, you probably guessed what I did next – took it apart. The insides of the plastic wash tub are a bitch to get at (nondestructively); the whole thing has to be carefully unhooked from a pair of shocks and large springs, liberated from half a dozen hard-to-reach hoses and tubes with fiddly retaining clips, and the glued-on rubber seal cut away from the front of the machine. There are also cinderblock weights (yes, really!) on the tub which ought to be removed unless Hulk Hogan is helping you lift it out. On mine, the bearing surfaces were also so rusted, it took beating the living hell out of the shaft with a big hammer to separate the assembly from the tub.
Here is what I found inside:

One rotted, broken-ass spider. Surprised? Also note all the "used to be spider" white crud packed in beneath the bearing.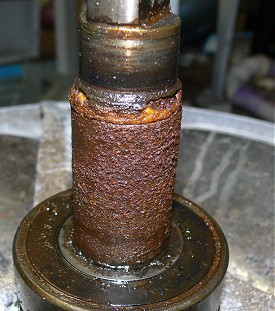 One rusted-out shaft for a rotted, broken ass-spider.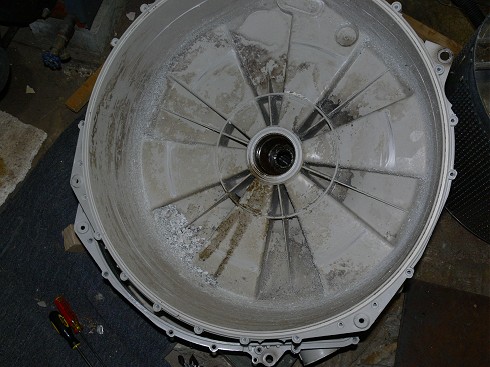 One reaction vessel washtub for a rotted, broken-ass spider. Yuck, my clothes were in there? The white crap looking like crushed concrete at the bottom is corroded bits of spider that haven't yet ground away at the pump impeller while making their way to the city's sewer. You can also see where the grease has begun leaking out from the cheap rubber lip seal that's supposed to be keeping water out of the bearings.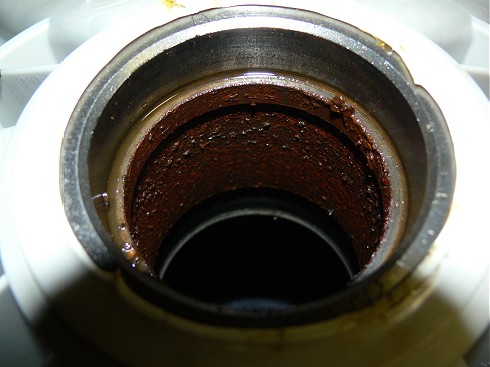 One rusted-out hole for a rusted-out driveshaft to grind slide into. "That's not my mating surface, baby!"
All this because Sears/Kenmore*** could have easily solved this with $1 worth of engine paint (etc.) to coat this fiddly metal bracket, but chose not to. Also, like in the video above, my outer tub has a nice deep gouge line where the screws in the wildly-flailing basket tore it up. Luckily we were home when it went, and our catlike reflexes caught it before they could carve all the way through.
*says everyone on the Internets. Don't McLibel me.
** and if you want to save the hassle of retaining clips patwanging across your basement and the Hulk sneaking looks up your skirt, and have the new part installed by an authorized repairman… there's a reason they have those commercials with the repairman playing Solitaire all day because no support calls come in… it really is cheaper to buy a new machine. ($75 diagnostic visit + $450-$700 repair quotes vs. $500-600 for current units.)
***technically, Sears/Kenmore just buy the appliances from other OEMs and put their names on them. This particular model (417.42142100) is made by Electrolux; others are rebadged Frigidaire or Whirlpool units. Unfortunately, all seem to share a similar design, right down to the fail timer.